Our Next Stop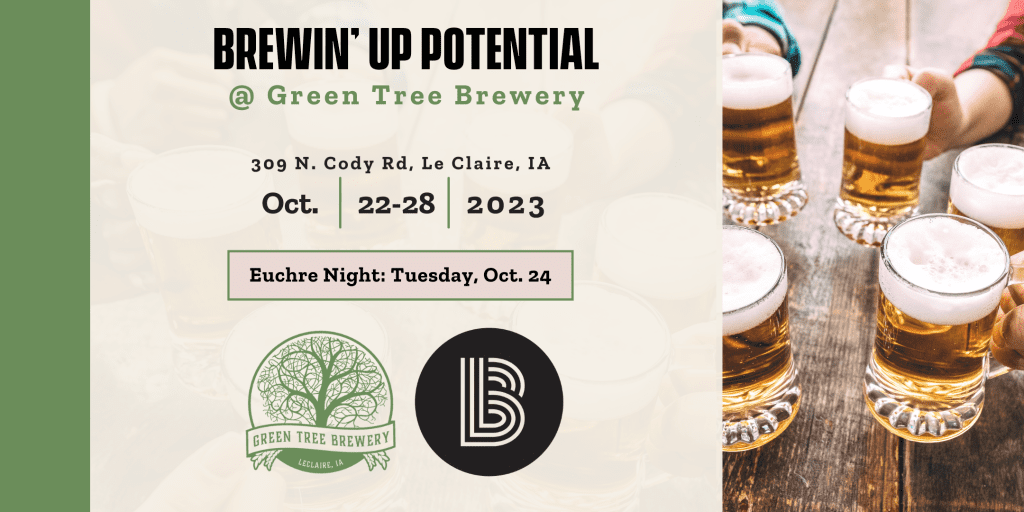 Join Us for Brewin' Up Potential at Green Tree Brewery!
Date: October 22nd-28th
Euchre Night: Tuesday, October 24th (proceeds support BBBS)
Euchre Entry: $10
Prizes, Pint Glasses, and Great Brews!
We're taking over Green Tree Brewery for a week of fantastic brews and giving back! Join us on October 24th for Euchre Night filled with cards, exciting raffle prizes, and the finest brews in town. Best part? Proceeds support youth mentoring in the QCA!
And don't forget to grab your very own Big Brothers Big Sisters Pint glass for just $10 (includes your drink). It's a perfect way to commemorate your support.
Mark your calendars for October 22nd-28th and make Green Tree Brewery your go-to spot.
What Is Brewin' Up Potential?
Welcome to "Brewin' Up Potential," an exciting initiative where we join hands with local coffee shops and breweries to champion the mission of youth mentoring right here in the Quad Cities.
What's "Brewin' Up Potential" All About?
Brewin' Up Potential is our way of blending the love for your favorite brews with the commitment to youth mentoring. During this event, you can visit our partner establishments and enjoy special drinks, all while contributing to a noble cause.
Your participation in Brewin' Up Potential not only enriches your coffee experience but also makes a lasting impact on our community. It's a chance to enjoy great drinks while doing great things.
So, stay tuned for updates on our website and social media. Be part of the change, one cup at a time, and let's brew up a brighter future together!
Follow us on social media for the latest updates and event announcements.
What to Expect
Our partner establishments add their own creative touch, whether it's a special event, proceeds from sales, or a custom drink or brew. It's your chance to gather your crew, savor, and support youth mentoring in our community.
Join Us
Visit Our Partners: Drop by the featured coffee shops and breweries during the event.
Share the Love: Use our event hashtag and spread the word on social media.
Join Us at Special Events: Come to our exclusive events for a night of fun, friendship, and fundraising.
Interested in Becoming a Partnering Coffee Shop or Brewery?
Are you a local coffee shop or brewery interested in joining our mission to create positive change in our community? We'd love to discuss creative ways for you to be a part of "Brewin' Up Potential." Contact kkiesey@bbbs-mv.org, and let's explore how we can collaborate to make a difference.